Our Services Increase Sales, Create Business Opportunities, And Build Sustainable Brands.
Orbit Advertising & Marketing Inc. was established 1998 by Ronny Carlson, a Chicago based Art Director with a decade of keeping key creative positions in leading Chicago advertising agencies. He built the agency around breakthrough creative advertising and marketing content which have since built leading brand positions for his clients and made their products to the preferred in their markets.Orbit Advertising & Marketing are set up to work well with complex products in highly competitive markets. We have capabilities to find highly successful marketing solutions for complex technology and difficult to understand competitive advantages. We simplify and create powerful messages that people enjoy engaging themselves in.
Orbit Advertising & marketing"s first client was a Swedish manufacturer of heavy duty metal machinery that had a lot to offer the American industry if corporate buyers would listen. At the time industrial companies used clunky descriptive advertisements that often could be confusing to readers. To stand out, we developed a one-word advertisement that attracted attention and instantly made our client to the best perceived brand in their market. The simple advertisement was developed around the major problems manufacturers had with these kind of machinery. We sought out the correct message for and the concept made the advertisement revolutionary for the heavy duty metal manufacturing industry. The advertisement was smart and had an air of confidence without bragging which made the company and its products seen as technology leaders with a contemporary attitude.
Below, the left, one-word advertisement instantly made our client to a leading brand in its market almost two decades ago. The right advertisement is recent and show markets that the company since been successful in. We constantly work to open new markets for our B2B clients by targeting corporate buyers and decision makers within leading companies.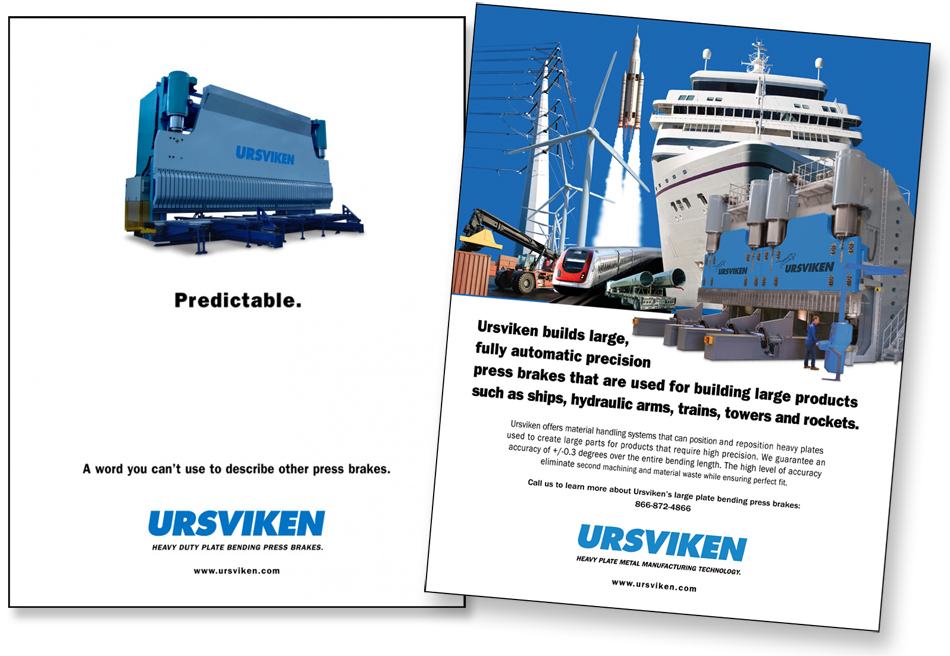 Our advertisement has been placed in media that targeted vehicle manufacturers, earth moving equipments, ship builders, hydraulic machinery, train builders, energy companies and the aerospace industry. We have now for many years provided our client with solutions that have helped expand their market and sales through one financial crisis after another.
Orbit Advertising & Marketing has developed breakthrough creative advertising and marketing content that has been successful locally, nationwide and globally in both the business-to-business and consumer market.
Flooring
The future