Orbit Advertising & Marketing Inc. was established 1998.
Orbit Advertising & Marketing Inc. was established in 1998 by Ronny Carlson, a Chicago based Art Director who for over a decade had worked in key creative positions in leading Chicago advertising agencies prior to opening his own business. He developed Orbit through use of breakthrough creative advertising which has since built leading brands for his clients and made their products to the preferred choice in their markets. Orbit Advertising & Marketing is set up to work efficiently with complex products in highly competitive markets.
Our Advertisements And Marketing Content Attracts Prospects And Customers Using Unique Visuals And Creative Ideas That Inspire Purchasing.
Our creative advertisements and marketing content have successfully built sustainable brands locally, nationally and internationally in both B2C and B2B markets. Our advertisements utilize smart marketing strategies based on our client's business growth plans. We work closely with our clients to find solutions that are the best business practices for them.
Orbit Advertising & Marketing's development of unique creative concepts and visuals are our most valuable service because we pull uninterested prospects into clear sales messages that inspire purchasing. Our messages have a narrative element that engages prospects, while allowing our advertisements to be easily made into TV commercials or any time related media.
Our advertisements and marketing content are developed to be usable in all media: print and online advertisements, e-mail marketing, search advertisements, landing pages, billboards and TV commercials, exhibit booths, brochures and more. When you work with us, we open your advertising and marketing content to all media. On this website, we show the raw advertising concept but can expand that concept into any marketing format and media to make the idea into a complete multi-media campaign.
The left advertisement speaks to corporate buyers and the right speaks to consumers and home owners. We carefully develop our visuals and conceptual messages to fit our targets.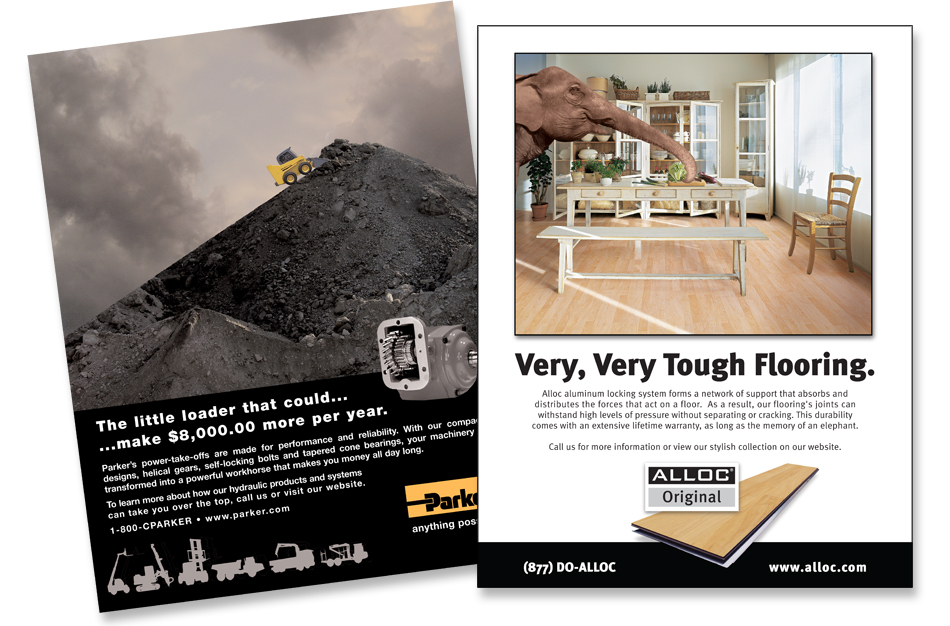 Business to Business Advertising And Marketing
We know the B2B market. Orbit Advertising & Marketing"s first client was a Swedish manufacturer of heavy metal machinery that had a lot to offer the American industry if corporate buyers would listen. Industrial companies have a tendency to use long, clunky advertisements. To stand out in the market, we developed a one-word advertisement that instantly attracted attention and made our client to the best perceived brand in their market. The advertisement had an air of confidence and humor which made the brand and company seem contemporary and the machinery leading edge. We have since worked with them and helped them expand their market nationally and internationally. Below left, is the one-word advertisement. The right advertisement is more recent and shows products from markets that we have helped them conquer over the years. We know how to reach corporate buyers and how to influence their purchasing decisions.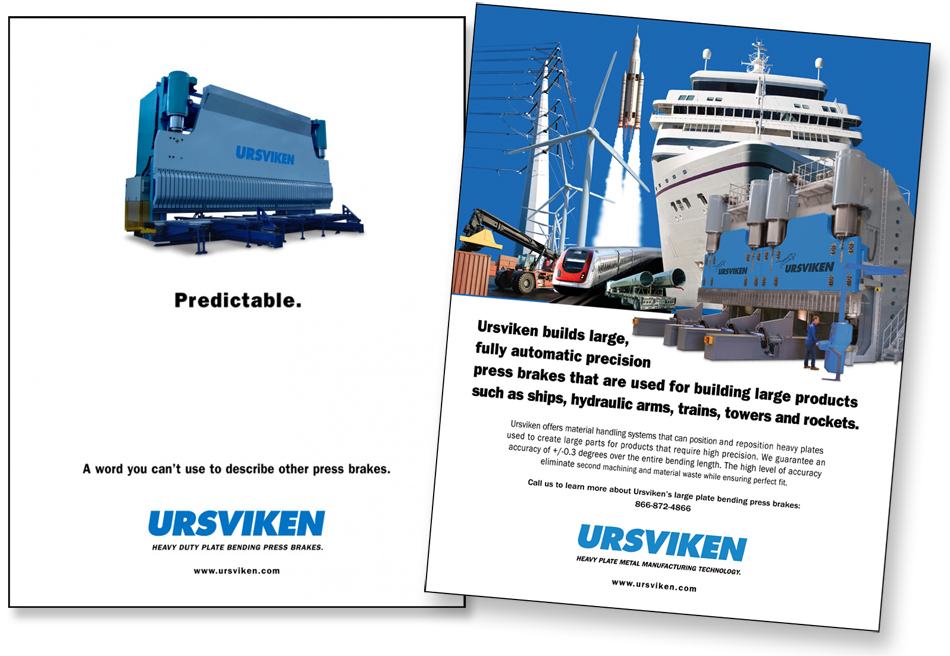 Consumer Advertising And Marketing
Our advertisements are product specific even in the consumer sector. People buy products. We make advertisements that don't waste consumers' time but still engage and entertain. We go right at the reason-to-buy and leave a memorable message of the competitive advantage, product features and the brand. Our messages are clear and direct because they create trust. Below advertisements target boat owners, boat repair shops and boat builders. We pull them into the advertisement with relevant and creative images that are simple and easy to understand.
Our Future Looks Bright.
At Orbit Advertising and Marketing, we are constantly digging in for our clients. We work hard to find inventive solutions to our client's business challenges. Let us help you solve your business problems, increase your sales and expand your market locally, nationally and globally.

© Orbit Advertising & Marketing Inc. All Rights Reserved.